Matthew Taylor reports on the 2011 Notting Carnival for the the Guardian, UK.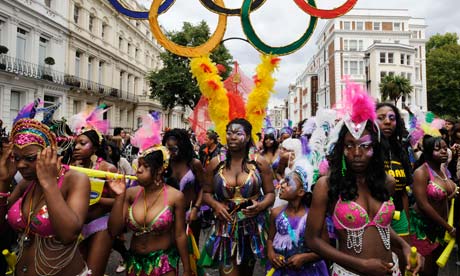 Performers at the Notting Hill carnival in London. Photograph: Facundo Arrizabalaga/AFP/Getty Images
Hundreds of thousands of people have taken to the streets of Notting Hill, as organisers of Europe's largest carnival said it was on course to be one of the best in years.
More than 6,500 police officers were on duty on Monday amid fears the event could be a catalyst for trouble following the riots and looting that hit London and other English cities this month.
But organiser Chris Boothman said the carnival had allowed Londoners to "reclaim the streets".
He added: "We haven't seen any major trouble so far and the atmosphere seems to be fantastic. People have really come out to support the carnival and it shows once again that London can put on large events."
Organisers said they were expecting up to 800,000 people to come to the carnival on Monday – and more than 1 million over the two days.
Thousands of people lined the route as more than 70 floats, dancers and drummers wound their way through the usually quiet streets of Notting Hill in west London. Others congregated in the network of side roads where scores of sound systems created a patchwork of smaller parties.
Suzzie Morgan, 21, said it was her third carnival. "We didn't even think about not coming after the riots – why should we?" she said. "It is just as good an atmosphere as always and I think everyone is here for a party."
Ann Shore from Chesterfield was at her first carnival.
"We were in London for the weekend so thought we would come a long and see what it is like and it is pretty impressive … We are northers so we are not worried about any trouble and if there was any I would give them a swing of my handbag!"
Despite the upbeat mood there was a huge police presence on the streets leading to the carnival route.
Using special powers granted under a Section 60 order, officers stopped hundreds of people – mostly young men – looking for "drugs, weapons and anything that could cause problems", according to one policeman.
Nathan, 21, from Peckham, south London, was one of those stopped. "They have got a job to do but there is no need to treat us like that … We have come here today for a party and hopefully to get some girls, not for anything else."
This year's carnival has been scheduled to start and finish early on both days, with people due to leave the area at around 6.30pm on Monday.
A spokeswoman for the Metropolitan police said 88 people had been arrested by 8am on Monday, adding that the Section 60 order had been extended "to support the pan London and Notting Hill carnival policing operations to keep the capital as safe as can be".
For original article: Notting Hill carnival attracts hundreds of thousands onto streets | Culture | The Guardian.