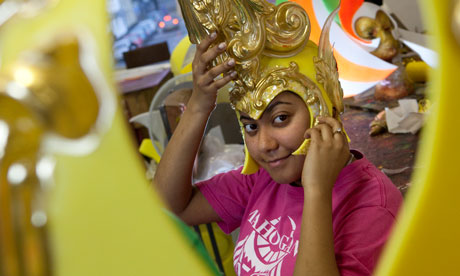 Simone Ramdeen, 20, tries on a headpiece for the Notting Hill carnival at Mahogony in Harlesden, north-west London. Photograph: Teri Pengilley for the Guardian
Behind the nondescript shutters of a shop unit in Harlesden, north-west London, a small army of creators from the Mahogany mas camp – one of the Notting Hill carnival's most flamboyant groups – are busy at work.
Giant scarlet dragons jostle for space with azure lions, while workers mould shapes from piles of lightweight foam, apply sequins to headdresses and hand-paint strips of material. In the back room, sparks fly from a noisy blow torch.
In little more than a week, this mas – or masquerade – camp will dress more than 200 people for the Notting Hill carnival, which participants insist must go on despite the civil unrest that sparked widespread riots and looting in London two weeks ago.
"Carnival absolutely needs to happen this year," said Clary Salandy, a designer and director at Mahogany mas camp who has been creating costumes since the 1980s. "The Caribbean community needs to rekindle its identity. Carnival is an opportunity to demonstrate that we have a creative culture that England can benefit from."
Doubts about whether the carnival – a celebration of African-Caribbean culture that brings an estimated one million people on to the streets of west London over the bank holiday weekend – will be held have been raised since riots broke out first in Tottenham on 6 August before spreading across the capital and to other major UK cities.
The event will go ahead, Met police chiefs said this week, but it will close early at 7pm on both evenings. Extra officers, at the carnival and around London, will be on duty.
"We totally encourage the earlier start and finish times of the event this year, given what has recently happened in London," said the Met in a statement. "The Notting Hill carnival is an important event in the capital's calendar, and we support it going ahead this year. Troublemakers are not welcome."

  Carnival this year is an opportunity fraught with risk. If it passes without incident, the police have a chance to reassert their authority, and show that normality has returned to London's streets. But in the past the event has been seen as a thorn in the authorities' side and, if there is trouble, some fear it could be the kiss of death.
There is little chance of that, insisted co-director Ancil Barclay who said hundreds of extra volunteers had come forward this year in the wake of the riots. "We have got so much support from people saying we have to keep the spirit of carnival alive – lots of people who have been against carnival in the past are now in favour," he said.
Taking a brief break in a local west London restaurant, after a meeting that had lasted all day and before another likely to last all night, fellow co-director Chris Boothman agreed. "Londoners are back in control of London," he said. "If you wanted to cause trouble, this is really not the year – Notting Hill is going to be one of the safest places to be in the city."
Not holding the event would have a dire impact on London's image, added Barclay. "This is such an important year, it is a trial for the Olympics in 2012 and a chance to show the world that London is open and ready for business. Can you image the image it gives to potential visitors if it didn't go ahead?"
Carnival brings in an estimated £97m to London every year and acts as an "escape valve" for the city to let off steam, said Boothman, who, like Barclay, has a full-time job and works unpaid to make carnival happen. This year's event was a chance for carnival to rediscover the role it played in its early years, when the Caribbean community took to the streets in part as a reaction to race riots in Notting Hill.
"Protest is part of carnival – but it is creative rather than violent. It is a much better way for people to make themselves heard," he said. "Lots of people see it as a street party, but it is a celebration of Caribbean cultural heritage and art that if we do not foster will die out."
There have been grumbles from some that the early finish will cause problems – floats will have to start preparing at the crack of dawn, and the magic twilight hours, when costumes shimmer in the newly lit street lights, will be lost. But, for once, there are likely to be few complaints about a beefed-up police presence. "The police will be here to protect people," said Barclay. "It is an opportunity to repair a relationship that has been damaged."
This year's event is also a chance to show the world what London does best, said Dexter Khan, band leader of the Cocoyea mas, who has been involved in the carnival for 44 years. "After what we have seen, this is vital for the community," he said. "The riots have given a bad impression of London to the whole world, the carnival has to show that London thrives and that we can do these events on a big scale."
Richard Gallimore, band leader of the Bachanal mas, a relative newcomer to the mas scene, said his camp was going "full-steam" ahead. "Shit happens but we are moving on," he said. "We are not going to live in fear of these hooligans. Obviously you have to take precautions but we are determined to give a positive image."
Back in the Mahogany workshop 20-year-old Koya Greenaway-Harvey, who first came here on work experience when she was 14, explains that this year's carnival has the chance to turn "a negative into a positive".
Cutting strips of foam, which over the next week with be transformed into a spectacular flight of fancy, she says: "The riots were scary; that's not the London I know. But carnival is completely different – the music, the people. You just get possessed by the spirit of carnival. It shows that people coming together can be a wonderful thing."
For the original article: Notting Hill carnival: fraught with risk, but the show goes on | Culture | The Guardian.