Renowned Trinidadian musician, keyboardist Allan Oxley recently released his 2012 pan kaiso, Heavy on Pan. With this offering, Allan assumes the roles of lead singer, composer, and arranger as he continues along his musical journey. Here  is an audio clip of Heavy on Pan, which is followed by a biography of Allan's musical life and accomplishments.
Click to listen: Heavy On Pan (A Tribute To The Grandmaster) 

    Biography:
In Trinidad and Tobago, the name "Oxley" is synonymous with music and Allan Oxley has lived up to that tradition of his parents, Ken and Stephanie Oxley (both now deceased). Ken Oxley was the famous bass baritone singer who sang for many audiences all over Trinidad and Tobago. Stephanie, his wife, was also involved in music and was equally responsible for the involvement of their three children in this artform. Allan, the youngest, and his older siblings were often wooed to sleep by the harmonious vocals of the ever popular Argonauts Male Voice Choir of which his father Ken was founder and leader.
Allan started to learn the piano at age 9. He studied and sat for the examinations of the Trinity College of Music (London) and reached Grade V in Practical Pianoforte and Grade III in Theory of Music.
After leaving school in 1969, Allan became involved in the local music band scene as a keyboardist playing with several combos. He went on to such legendary bands like Joe "Chet" Sampson, Gemini Brass, Shandileer and Atlantik to name a few. Allan was an original member of Shandileer in 1979 and stayed with that band until 1991 which was perhaps, one of the more defining stints in his long and ongoing music career.
Allan toured extensively with some of those bands throughout the United States of America, Canada and the Caribbean. He played in most of the major carnivals in Trinidad and Tobago, New York, Toronto, Montreal, Miami, Orlando, Barbados and Antigua. Besides playing keyboards, he did background vocals and percussion on recordings with Gemini Brass and Shandileer and also directed a couple of local recording acts including Sharlene Boodram.
As a freelance keyboardist, Allan has played at The Revue Calypso Tent from 1999 to 2005 and it is there his involvement in calypso music expanded. He was guest keyboardist for the Trinidad and Tobago Police Band during their calypso competitions, was a member of the "Trinidad and Tobago All Star Band" which supplied accompaniment for Calypso Semifinals and Finals competitions in St Lucia Carnival celebrations, as well as keyboardist for The Ambassadors Calypso Tent in St Lucia W.I.  Allan was also well known as the Musical Director/Arranger/Keyboardist at National Housing Authority's Annual Calypso Competitions from 1993 to 2003, organizing and supplying music scores, musicians and music band for rehearsals and shows. He also worked at that Trinidad and Tobago Government Institution as a Draughtsman from 1971 to 2001 before retiring.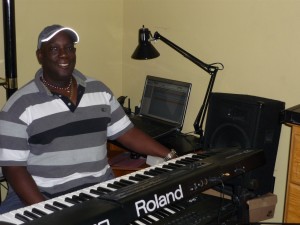 As a volunteer, Allan also assisted teachers from St James Secondary School and Nelson Street Boys' R.C. School, in preparing students for their respective calypso competitions.
His experience also includes performances alongside Double Tenor Jazz Steel drummer, Clyde "Lightening" George at the "Pan Institute" in Diego Martin and one in Chicago U.S.A. He had the honor of accompanying the Mighty Sparrow at shows in St Lucia, Calgary, Montreal and Toronto, Canada and shows with Kelly Greene's "Harmony with Brass", accompanying calypsonian Baron at The St Lucia Jazz Festival.
In Central Florida, U.S.A., Allan has performed alongside Double Tenor players John "Mr. Steel" Smith and the Orlando based band "Tropical Steel" and also Mitch Warner at various cooperate and public events in Florida.
Mr. Oxley's love for music and Steel Pan saw him providing community service to his neighbourhood "pan 'round the neck" Steel Band, Soul City. It was this unit he tutored himself on the tenor pan and combined all his musical skills to begin composing and arranging for the Steel Pan. Besides Soul City, he also assisted The Entrepot Secondary School Steel Band of St. Lucia, West Indies in preparation for their performance at the World Steel Band Festival held in Trinidad and Tobago, West Indies, in 2002.
Allan has since migrated to The United States of America, but had a profound experience while concluding a performance in Trinidad, which was a tribute to The Grandmaster, The Lord Kitchener. As a result of this, he composed his first song, "HEAVY ON PAN – (A Tribute To The Grandmaster)". With his musical skills, he arranged and scored the music for the various instruments. He has put down all the initial tracks for his composition at his home studio. His lead vocals, background vocals which were done by Lyma Dunbar, a former vocalist with Shandileer and the Steel Pan tracks by John "Mr. Steel" Smith ( Double Tenor Player) of "Tropical Steel" of Orlando, Florida were later added.  In addition to those tracks, the mixing and mastering were executed by John "Mr. Steel" Smith at his production studio in Orlando, Florida.
In addition to this recording, Allan has arranged and fully scored a Steelband Panorama version of this song which he hopes to work with any Steel Orchestra who require his services as an Arranger in 2012. The parts scored are: High and Low Tenor, Double Tenor, Double Second, Guitar Pan, Cellos, Quadraphonics, Six/Nine/Twelve Bass. As a bonus, Mr. Oxley will also include in his contractual arrangement package with that Steel Orchestra, a fully scored "Bomb Tune". A demo of these arrangements can be heard on request.
Allan aka "Heavy" can be contacted by phone (407) 508 2906 or email argomuzik@yahoo.com.