The following article was written by Deborah Circelli, staff writer for Daytona Beach News Journal, and published on Jan. 16th 2011.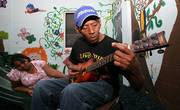 Bert Bailey plays daughter Jackie's guitar at the STAR Family Shelter. The family is about to move into their own home. (N-J | Sean McNeil)
DAYTONA BEACH — Bert Bailey's fingers glide over the guitar strings with hints of Jimi Hendrix and Bob Marley as he sings in a raspy blues voice.
"I thought I wouldn't make it at all," the lyrics roll off his tongue, eyes occasionally closing, then a sudden smile, a musician's joy. "Just when that girl took my hand, everything was all right. I said girl, I shoot you straight to the top."
Nearby, piled on a slide and wooden jungle gym in the small playground outside the local homeless shelter, 10 children stare at the person they know as "Mr. Bert," who cleans and lives at the shelter.
They remain quiet and focused until the song ends, then burst into applause as he raises his hand and shyly smiles, thanking them and some parents who later appeared.
It's not the typical audience for Bailey, who is from Trinidad and toured with the reggae superstar Marley for a few months in the late 70s, after playing in clubs with another band in New York City.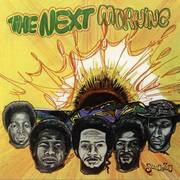 A band Bert Bailey formed while living in New York, The Next Morning, had an album in 1971. Bailey, who has been living at the STAR Family Shelter, said he is pictured in the center. (Bert Bailey)
He has struggled over the years with odd jobs cleaning or moving furniture, "because playing wouldn't always be there to supply a steady income."
He found out only recently that an album from his early days in the United States that he never thought saw the light of day has been selling on the Internet and downloaded for cell phones and MP3 players.
"We had no idea what ever happened to the records," Bailey said. "I don't believe this; after all these years, this is hooked up all over the Internet."
Bailey, who has been playing in bands throughout Volusia and Flagler counties for more than 15 years, has been living the past 11 months at the STAR Family Shelter on Seagrave Street with his 12-year-old daughter and her mother, his longtime partner. The family will soon be moving into a rented house.
The couple said they fell on hard times when their hours got cut doing maintenance, laundry and other work for area hotels. Part of the decline, they said, came after their daughter almost died as she suffered cardiac arrest at Daytona Lagoon water park in 2008 and spent more than a month at the hospital recovering.
At the shelter, which houses 30 adults and 43 children, some of the children and adults are surprised when they hear the voice and guitar sounds of Bailey, who doesn't like to tell his age but is in his early 60s. He played during Christmas for residents and practices in his room or in the playground area with his daughter's small guitar. His electric guitars are at the house of the drummer in a local band he's in called Children of Stone.
Bailey's nickname is TriniHendrix because he's from Trinidad and people compare his sound to the late guitar legend.
"He's an absolutely killer guitarist," said Tony Marlow, owner of The Golden Lion Café in Flagler Beach, where Bailey has played off and on for 10 years. He also gave Marlow's son guitar lessons about nine years ago.
"He's just so good," said Marlow, who was shocked to hear Bailey has been living in the homeless shelter. "I never knew he was on such rough times."
The director of operations over the shelter and the STAR Family Center, Raul Gonzalez, is hoping somebody from Bailey's past recognizes him and he's able to reconnect or that someone hears his story and his career can rebound.
The recent news story of an Ohio homeless man, Ted Williams, whose broadcasting voice brought him national attention, gives Gonzalez hope.
"He is the most humble man I have ever met," he said, adding Bailey is only paid part-time, but works all day long at the shelter doing maintenance and other volunteering. "His story is like so many other musicians in the past who didn't have the proper representation. He's kind of disappeared into time."
FROM TRINIDAD TO NEW YORK
Bailey has been playing guitar since he was 9 years old, influenced by an uncle who was in a band in Trinidad. Bailey said he and his three brothers and two cousins formed their own band called Bert Bailey and the Jets, playing at fairs and schools, making records and performing on a television show and on the radio in Trinidad.
"We played everywhere and all over the country. We were on posters all over town and we played with the big groups," Bailey said.
After moving to the United States in the late 1960s, he said he attended a music school in New York City for two years and worked at an insurance company in the mailroom and supply department. But he said, "I was lost without my group and all my friends."
Eventually, he formed another group, mostly from Trinidad, with one of his brothers, Herbert, a cousin and two other men. They billed their sound as rock with "an island influence.
"Everybody left their jobs and we went full speed ahead. I started writing all the songs," Bailey said. "This is what made our music different. We still had the island flavor in it."
The group, called The Next Morning, hit 42nd Street and Broadway in 1970 "going from studio to studio and company to company" until they got noticed by a record label and produced an album, "The Next Morning" at New York's Electric Lady Studios. The band was told to keep playing in clubs throughout New York City until a single was released from the album.
He said the musicians were promised an advance worth thousands of dollars for equipment to go out on tour with another well-known band at the time, "but the money never came." They kept waiting for the single and album to be released and the group became frustrated, he said, and broke up.
Bailey said he eventually landed in Miami, where his mother lives. He was recording in the late 1970s with a mutual friend of Marley's, a musician known as King Sporty, "when this guy with big hair came through the front door and it was Marley."
Marley, he said, later had him fill in for one of the lead guitarists for six shows of the Kaya tour in 1978, named for Marley's album.
One night on tour in Detroit, Marley, who Bailey describes as "a messiah of music" and whom he idolized, asked Bailey to come to his room to talk to him.
"I was having goose bumps — this was Marley talking to me," Bailey said with excitement still in his voice today.
Marley took out a Bible and started reading from a passage that Bailey recalls dealt with the 12 tribes ofIsrael, and he thought "this is getting heavy."
"He started reading something about 'you are my twin brother,' " Bailey said. "I'm not really following, but I have to. He is way up there. He said, 'you are here to learn and to see and to transfer what I'm teaching you into your own story.' "
He continued playing with King Sporty and eventually ended up in Daytona Beach in the 1980s where a musician friend lived. Through his friend, he met the woman he calls his wife about 19 years ago and the mother of his three children. He never returned to Miami.
Bailey said it wasn't until one of his daughter's teachers three years ago pulled up his name on the Internet that he found out "The Next Morning" had been released in 1971 and is now on CD. The album has become a collector's item selling on some websites and in some countries for hundreds of dollars.
"After all these years, I was blind about what was out there. I'm actually glad and actually blessed to know that the little thing is still here. It's still alive," Bailey said. "It's almost like a miracle.
"This is what we wanted when we were hungry at the time," said Bailey, who questions why he and band members, who he's lost touch with, don't receive royalties.
Gonzalez, who oversees the shelter, hopes to find a lawyer to help Bailey research what happened and see if he can recoup anything from the sales.
"He hasn't lost anything over time," Gonzalez said. "I'm looking at a guy who is talented like that and he's homeless. He's a simple man who has a passion for playing — that is the only thing he knows."
'LIKE HENDRIX AT WOODSTOCK'
Steve Smith of Port Orange, who plays the drums and whose stage name is Mitzsoto, has been playing with Bailey for about four years in their band, Children of Stone.
"Bert can go to places on a guitar that I have never heard," he said. "The music morphs in a way that is like Hendrix at Woodstock."
He said Bailey's life is almost like Hendrix's life before he became famous and was sleeping in alleys.
"Bert has kind of gone along the same path," Smith said. "He had fame and stuff coming to him in the '70s, but through mishaps in life, he's never been able to get to where he really belongs and that is at the top of the food chain, and that is the way Hendrix was."
Hyacinth "Mimi" Rismay, the mother of Bailey's children, said "things have not been the same" since their daughter, Jackie, almost died when her heart inexplicably stopped while at the water park. She said they still don't understand what happened. She still has to take pills daily for her heart and had a defibrillator implanted, Rismay said.
The couple, who have been together in Daytona Beach for about 19 years, also have two other children, 15 and 16, who live in the U.S. Virgin Islands with their grandmother.
Rismay now works two jobs and spends nights taking care of an elderly woman outside of the shelter. The couple and their daughter, though, see better times ahead. They plan to move this week to a rented house through the Homeless Prevention and Rapid Re-Housing Program, which is part of the American Recovery and Reinvestment Act and helps with their expenses.
Bailey, who has had problems with drugs in the past but didn't want to talk about it, said being at the shelter kept him focused and has been a blessing because the staff helped him save money and get the shelter job. He plans to continue working at the shelter when he moves out.
While practicing earlier this week, Bailey wore a shirt that read "Live to play." He sang a song by Hendrix called "Red House" and some originals he's written about love and inspiration. Sounds of small children crying and playing drifted in from outside.
"Every day I take my guitar and this is how I get into my peace of mind. That is how I calm down," said Bailey, who mostly practices in his room or at a band member's house. Fellow shelter residents gathered to hear him play on this afternoon.
Sherri Reid, 41, who lives at the shelter with her two daughters, said Bailey is "a hidden talent."
Sabrina Troyer, 11, who is at the shelter with her mom and sister, said she likes Bailey's "rhythm and how he plays. It touches you."
Bailey's daughter, Jackie, a sixth-grader at Holly Hill Middle School, sat nearby with the other children. She writes songs and loves rock music and hopes one day to sing and produce. She's been inspired by her father, who told him her songs need to have "rhythm and it needs to make sense."
As he continued to play, another man living at the shelter said he had no idea Bailey had such talent.
"I'm a quiet person," Bailey said after practice. "I don't want people to feel I'm any different."
For original report: 'Killer guitarist' struggles but pulls family out of homelessness – News.