The following report was published on the website Spiceislander.com, Nov. 7th, 2011.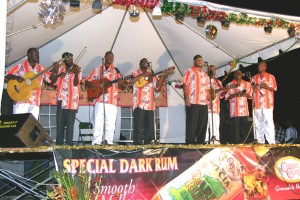 Men From The Mainland (Carriacou Parang Bands Competition 2005)
It is with deepest regret and enormous sorrow that the Carriacou Parang Festival Committee learnt of the sudden departure from this world, of the leader of "Men from the Mainland Parang Band ~ Anthony "Jericho" Greenidge ~ on Thursday 3rd November, 2011.
Jericho was an incredibly talented cultural minded individual who has made significant and priceless contributions to the development of the Carriacou Parang Festival over the years. Jericho first became involved in the festival as an MC more than 20 years ago, however his involvement didn't stop there; as an announcer and cultural enthusiast, Jericho was the "main man" for voicing the radio commercials to promote festival.
Jericho was also instrumental in organising the very first and only parang band from the mainland Grenada to participate in the annual Carriacou Parang festival, thus bringing an added dimension to the festival.
Throughout the many years Jericho was always available to assist the committee at a moment's notice with no condition whatsoever attached. He also used part of his time on radio to promote the festival to audiences both at home and abroad.
As we struggle to come to terms with Jericho's sudden passing, our hearts go out to his family, friends and colleagues; especially the members of the Men from Mainland parang band. Jericho was an important presence in so many people's lives and  he will be sadly missed by all of us.
For original report: Spiceislander.com » Carriacou Parang Festival Committee pays tribute to Anthony "Jericho" Greenidge.