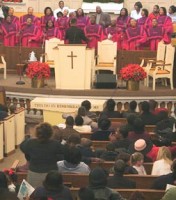 Event:  Why We Sing: Indianapolis Gospel Music in Church, Community and Industry
Location: Neal-Marshall Black Culture Center, Indiana University Bloomington
Date: November 12, 2011
Time:  9:00 a.m. – 9:30 p.m.
On Saturday, November 12th, Indiana University Bloomington will host the conference Why We Sing: Indianapolis Gospel Music in Church, Community and Industry. Why We Sing is a one-day conference which explores how the city of Indianapolis has served to inform, enrich and distribute this uniquely African American religious music expression both locally and globally. The conference will consist of three roundtable discussions featuring eight prominent Indianapolis gospel music icons: Al "The Bishop" Hobbs (Aleho Records, former Chair and current board member of the Gospel Music Workshop of America); Dr. Leonard Scott (Tyscot Records); recording artists Lamar Campbell, Rev. A. Thomas Hill, and Rodnie Bryant; Liz "Faith" Dixson (Radio Announcer, WTLC AM 1310); Tracy Williamson (TRE7, Inc. Artist Development, Marketing and Production Company), and Sherri Garrison (Director of Worship, Eastern Star Church; Former Director, Gospel Music Workshop of America Women of Worship).
Doors for the conference open at 9:00 am at the Indiana University, Neal-Marshall Black Culture Center. The conference will culminate with an evening concert emceed by Al "The Bishop" Hobbs starting at 7:30 pm at the Fairview United Methodist Church. Performers include Sherri Garrison, who will be directing the Bloomington Community Chorus, and recording artists Rodnie Bryant and Lamar Campbell.
All events are free and open to the public. A related exhibit in the Neal-Marshall Center's Bridgwaters Lounge is open to the public through mid-December and features biographies of the participating artists as well as recordings, photographs, and other memorabilia from the Archives of African American Music and Culture.
The conference, concert, and exhibit have been organized by Dr. Mellonee Burnim, Raynetta Wiggins, and Tyron Cooper of the Department of Folklore and Ethnomusicology and the Archives of African American Music and Culture at Indiana University Bloomington.  For more information, visit the conference website.
For original posting: WHY WE SING | blackgrooves.org.