The following article was written by Zack Stieber for the Epoch Times.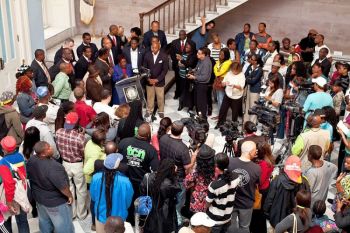 A crowd gathers at Brooklyn Borough Hall to listen to speakers condemn the link made by media between increased gun violence and the West Indian-American Day Carnival. (Amal Chen/The Epoch Times)
NEW YORK—Indignant elected officials and organizers of the West Indian-American Day Carnival held an emergency press conference to address an association made between gun violence and the annual parade by media reports.
"How dare anyone insult this rich community and this rich culture with attempting to associate the misguided behavior of the numerical minority that participated in criminal behavior with the millions of people who are on the parkway attempting to enjoy and celebrate the rich heritage of this culture," declared state Sen. Eric Adams at Brooklyn Borough Hall on Wednesday. "That's wrong!"
A relatively high number of crimes over the Labor Day weekend ended with 67 victims of "senseless shootings and killings," according to state Sen. John Sampson.
Multiple officials condemned the New York Post for a story that linked the largest parade and festival in New York with gun violence, pointing out that criminal acts occurred throughout the city, with a typical amount in the vicinity of the parade.
State Sen. Eric Adams condemns the perceived link between gun violence and the West Indian-American Day Carnival. He spoke at Brooklyn Borough Hall with other elected officials and parade organizers on Wednesday. (Amal Chen/The Epoch Times)
 "Our tabloids, our papers have a major influence on how people respond to things. … They identified … the parade as the cause for the shooting, but people don't know about what this parade is," said Adams. "Some people have called my office and said because of the parade we've had 24 shootings in 24 hours; they thought that the shootings that happened across the city were because of the parade. They connected violence in the city this weekend with the parade, which is not true."
A crowd of about 100 attended the press conference.
Brooklyn Borough President Marty Markowitz spoke first, saying that "this parade is a great gift to New York and to America."
For the full original article: West Indian-American Parade Not Synonymous With Violence | United States | Epoch Times.