Remembering our ancestors
The following article was published in the Trinidad Guardian on Oct. 20, 2011. It honors Hierreyma, one of the leaders of the native peoples, and the battles they waged against the colonialists in early 17th century Trinidad.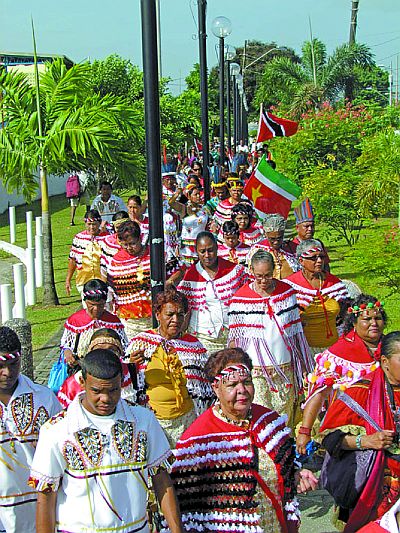 Amerindians parade on the streets of Arima. Photos: Edison Boodoosingh
After the founding of St Joseph in 1592, Spanish settlements were pretty much limited to four valleys in the western Northern Range. East Trinidad was the home of the Nepuyo nation, whose active resistance effectively limited Spanish attempts to control and settle North Trinidad. Their best known leader was Hierreyma, who continually harassed Spanish settlements from his base in Arima. In February 1636 he and his people visited the Dutch in Tobago. He proposed an alliance between their 80-100 white musketeers and his 400 warriors, to drive the Spanish out of Trinidad. He offered as hostages all his women and children and old men. But the Dutch did not take up the offer.
In late June 1636, a new Spanish governor arrived. By October he had destroyed one Dutch fort in the Nepuyo country of Punta Galera, and another in the Aruac country of Moruga. In early 1637 he captured the Dutch fort in Tobago, increasing his total number of prisoners to nearly 100: Dutch, French, and African slaves. He sent the son of the Dutch owner to Santo Thome on the Orinoco to await ransom, and the European prisoners to Margarita to await shipment home. Here, as food was short, 41 of them were secretly strangled and buried on the beach. In late July the Dutch factor of Essequibo, assisted by Caribs, Aruacs and Warao from the mainland, sacked Santo Thome, and freed the owner's son.
Then, it was St Joseph's turn. Early in the morning of October 14, 1637, 20 pirogues with Dutch soldiers and great numbers of Carib, Aruac, and Warao, arrived at the mouth of the Caroni to meet up with Hierreyma and some 600 Trinidad Nepuyo and Aruac. Guided by two Trinidad encomienda Indigenous, one called Andres, captured during the sack of Santo Tome, they overpowered the watchman. They all attacked St Joseph three-quarters of an hour before daybreak.  The townspeople were powerless to prevent them from burning the town and the church. The African slaves also assisted in the burning.
For a while in Trinidad Hierreyma and his people were free from the Spanish.Today as we remember and celebrate this great ancestor, who fought tirelessly for his land and his people, let us make a commitment to continue to fight to protect our history and culture.
For original post: First People's fight to protect history, culture | The Trinidad Guardian.