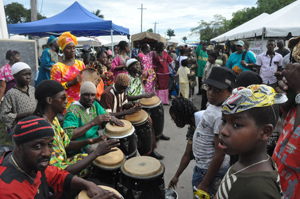 Thousands of Guyanese made the annual journey to the National Park to celebrate Emancipation Day yesterday. And this year, things were to be spiced up given celebrations for International Year for People of African Descent. The rains, however, marred attendance.
Many dressed in flambouyant African wear, while others dressed casually for the day out – mostly geared towards the cultural show. This was despite the fact that it rained for most of the morning, and the weather remained cloudy for the rest of the day.
The activity is held every year by the African Cultural Development Association, ACDA. President Bharrat Jagdeo, Prime Minister Samuel Hinds and his wife Yvonne, Presidential Candidates of the main political parties, Georgetown Mayor Hamilton Green, and members of the Diplomatic Corp were on hand for the celebrations.
While the cultural programme was being staged, President Jagdeo and Presidential Candidate of the ruling PPP, Donald Ramotar, greeted those who were in the National Park.
African drumming helped to create a lively atmosphere as patrons either tried to get African foods, African-inspired jewelry, craft, and even literature.
The celebrations organized by ACDA were held within the theme of the United Nations International Year for People of African Descent (IYPAD): "Recognition, Justice, and Development" for our Emancipation Festival." ACDA added the sub-theme "Re-uniting the African Family" to add focus to this year's celebrations.

Ghana, which was the first country south of the Equator to gain Independence from Colonial rule in 1957 and also the first African country on the Continent of Africa to celebrate  Emancipation, also used the theme "Re-uniting the African Family" as both its Emancipation and IYPAD themes.
Every year, ACDA chooses one African country to celebrate, but this year decided to capture inspiration from all 54 African countries.
"The celebration of Mother Africa underscores the reality that Africans were brutally dispersed throughout the World during the Arab and European slave trades and most Africans in the Diaspora cannot be sure of which African country their fore parents and ancestors lived in," ACDA said.
ACDA also stepped away from its tradition of recognizing one African village for the Emancipation celebrations and instead decided to celebrate the more than 100 villages bought by African ancestors after Emancipation.
A visiting Mexican Folk Dance Group also performed at yesterday's ceremony, much to the delight of the crowd.
For original article: Thousands celebrate Emancipation Day at National Park : Kaieteur News.