The following article was written by Nigel Telesford and published in the Trinidad Express, Feb. 23, 2013. 2013 narks the tenth anniversary of the death of the tremendously gifted musician/composer, and it is in this context that Telesford pays homage to his legacy.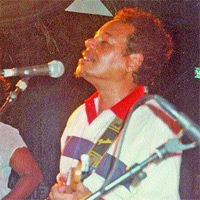 Andre Tanker was a musical giant, whose compositions fused many different styles from around the globe, defied all standard definitions and actually spawned many of the genres we know today.
A direct descendant of Michel-Jean Cazabon and an accomplished musician, Tanker played the vibraphone, piano, guitar, flute and blues harp and amassed an incomparable music legacy before his untimely passing on February 28, 2003.
As we approach the tenth anniversary of his death, we examine his legacy and share fond memories of this legendary musical icon through the eyes of his family, friends and close collaborators.
"We have to recognise his contribution and the impact of it, even today," said Wendell Manwarren of 3Canal. "He was an amazing songwriter, composer, musician; a giant, warrior, legend, pioneer—a man of music who was committed to Trinidadian, Caribbean and on a wider scale African and Indian expression—because he was a mix himself!"
In 2002, Tanker and 3Canal released their smash hit collaboration, "Ben Lion"—a satirical look at the ongoing conflict at the time between US president George W Bush and Osama Bin Laden, which became the song which defined the Carnival festival that year.
"He had the whole song written already and sat thinking… I want someone else to sing on this," recalled his widow Christine Tanker. "So he went down to D Yard by Rituals there and played it and 3Canal heard it and agreed to jump on it. That's the kind of man he was—he didn't have a problem sharing his talent or his knowledge."
In 1963, Andre Tanker and his band, The Flamingoes became the first local band to perform at the prestigious Hilton Hotel. Six years later, he married the daughter of Olympian, Emmanuel Mc Donald Bailey and in 1970, he composed the music for Derek Walcott's play, Ti Jean and His Brothers. Tanker also contributed the music for Ti Jean in Jo Papps' production of Shakespeare in The Park in New York in 1972 and composed and recorded the film score for the feature film, BIM as written by Raoul Pantin and directed by Oscar winner, Hugh Robertson.
Throughout the 80s and 90s, he would compose music and lyrics for many plays, films and television productions, including Earl Lovelace's Dragon Can't Dance, Horace Wilson's Turn of the Tide, Mustafa Matura's Playboy of the West Indies and Measure for Measure as part of Shakespeare in the Park in Central Park's Delacorte Theatre in New York.
"I think a lot of people feel like he only wrote "Sayamanda" and "Ben Lion" and that's it," said his daughter, Zo-Mari Tanker, "when the truth is he did sooo much more! But that's how he was too… He didn't go around bragging and boasting and claiming things. He just made the music and he shared it. I mean, he would get serious if someone tried to rip him off blatantly and be strict about those sort of things, but he wasn't one to brag and list his accomplishments."
Tanker and his band, One World Contraband toured the Caribbean and the US, while he himself journeyed to London, Italy and many countries of the world, while performing in Jazz and World Music festivals alongside the top musicians on the planet.
In 1996, he collaborated with top American pannist, Andy Narell, international drummer, Richard Bailey and calypsonian, David Rudder to create the highly-rated album, Children of the Big Bang.
"My father used to play his music in the car on that drive to school every day." Guitarist Nigel Rojas remembered. "That drive to school every day was important to me cause they had a lot of local stuff that was getting nuff airplay at the time—you had no choice but to know who these guys were because you would hear the parents speak of them with reverence and one of those people was Andre Tanker. So that was my first interaction of sorts with him and my second came when I was about 8 or 9 and I went to a variety show at St Mary's with my mother and grandmother—this was one of those shows where you would have one performer doing poetry, another might be a ventriloquist with a puppet and then came Andre Tanker with Contraband!
"I remember it vividly because he came out with an amazing afro, a resplendent dashiki and it was like my first real rock star moment when I felt inside that I wanted to do that—I wanted to be that guy onstage who transformed the little hall with 300 people into a mega stadium full of screaming, singing, adoring fans."
In 1999, Tanker served as musical director for Geraldine Connor's UK Production of Carnival Messiah, before sharing his vast array of knowledge with the students of Trinity College in Hartford, Connecticut in 2002. Tanker served as the composer/musical director for Ti Jean and his Brothers at the university and lectured on his work as a Caribbean composer, while also teaching a class in contemporary composition.
"One of the things anybody who knows Andre would remember," said his wife and daughter, "is his amazing sense of humour. He never took himself too seriously and he always found a way to look at things that would result in laughter all around. I remember when he was at Trinity College, he would make jokes about it, saying that he would never be invited to do what he was doing there at UWI because he didn't have a degree—but yet those people from so far away sought him out and welcomed him with open arms. He would see the humour and the irony in things and rather than letting it upset him, he would laugh instead."
In 2000, Tanker and One World Contraband were also contracted to film a one hour segment for BET's Jazz In The Sun series in Negril, Jamaica and this production is still shown worldwide on the channel today. Prior to his death, Tanker completed work on a special project which he entitled, IERE 21 and described as "a body of work encompassing all the music of Trinidad and Tobago". Tanker believed this project would "usher us into the 21st century".
In January, 2003, Tanker released three singles: "Is Heat" and "Food Fight" with Maximus Dan—who was also featured on a remake of his classic, "Hosanna" which was dubbed, "Hosanna Fire"—and "Rough Jammin". Less than 24 hours before his passing, Tanker performed "Rough Jammin" alongside Imij & Co at the Mad Hatter's Ball on Carnival Thursday. Rather than going straight home afterward as he would usually do, he stayed out quite late, telling his family: "It's my last party".
May his soul rest in peace and his legacy live on forever.
Andre Tanker: September 29, 1941 – February 28, 2003
For the original article: A man of music | Trinidad Express Newspaper | Sunday Mix.