Malick Folk Performing Company stages nostalgic and futuristic expressions.
The following article was written by Cherisse Moe and published in the Trinidad Guardian, Oct. 12, 2011.
The Malick Folk Performing Company has been working assiduously to bring the indigenous art form of folk music to the forefront since 1979. With a long list of accolades to its name and no signs of slowing down, the local group, which received the 2004 Chaconia Medal Silver for its outstanding contribution in the field of culture, is now gearing up to stage yet another exciting production, titled, Nostalgic & Futuristic Expressions, at the Queen's Hall, St Ann's, on November 6.
Secretary/public relations officer, Jemma Jordan said the production, directed by Louis Mc Williams and Norvan Fullerton, promised to be one to remember and featured some of the nation's brightest stars, including the Shiv Shakti Dance Company, the Lydian Singers, Los Alumnos de San Juan and African dance ensemble, Wasa Foli. "The production highlights Malick through the years so its nostalgic in that it showcases the senior members and futuristic because we have a junior company," she explained. "We are going to give them a taste of our indigenous culture in T&T in a very theatrical production with beautiful music and dance."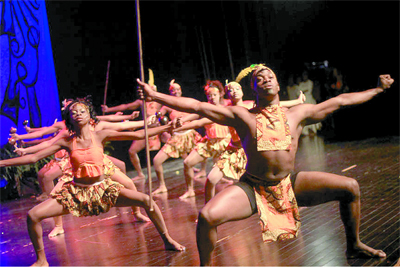 Members of the Malick Folk Performing Company put on a show for the recently concluded Best Village Dance Finals at the National Arts and Performing Academy.
Recognition
With Jamaican and American genres such as dancehall and hip hop the music of choice among the nation's youth, Jordan said local genres like folk music was not gaining the recognition it deserved. And while the performing company—which holds the record for being the only folk group to win the Prime Minister's Best Village Trophy Competition on ten occasions—was doing its part to keep the tradition alive, Jordan stated that the time had come to do more. "A people without a culture is like a people without a soul," she asserted. "We feel that it's important that our young people know our culture and take pride in what is our own. They must know what we created as a result of us being colonised. They must know where we came from in order to know where they are going."
Runs deep
Having toured extensively with the music group over the years throughout the US, Canada, Germany, Italy, Brazil and the Caribbean, Jordan's love for country runs deep. She said her main goal remained putting T&T on the global map and helping to preserve the country's dying culture. Also an integral part of Carnival for the past 21 years, the Diego Martin resident who has worked as an announcer for local events such as Dimanche Gras and  The National Steelband Panorama, as well internationally for New York's Labour Day Celebrations, disclosed that the group was on a "recruitment drive" to attract new members. She noted that interested individuals should be "committed and dedicated," have an interest in the performing arts and "be prepared to work hard."
More Info
The production—Nostalgic & Futuristic Expressions starts promptly at 4:30pm  on November 6 at Queen's Hall, St Ann's. Adult admission is $100 and $50 for children 12 and under.
For original report: Preserving folk culture | The Trinidad Guardian.