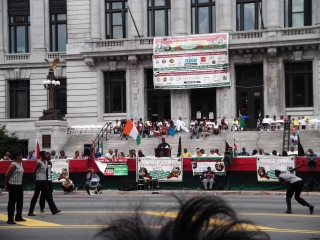 On Sunday May 29th 2011, the Annual African-American Heritage Statewide Parade, celebrating its 45th anniversary, was hosted in Newark, New Jersey. "The parade received its beginning in 1966, when heritage enthusiasts conceived the concept, and called it the Crispus Attucks Parade, but it was discontinued in 1976. It was revived in 1979 as the Black Heritage Day Parade, which continued until 1993. Today, Newark can boast of hosting the largest Black Cultural Celebration in New Jersey" (http://www.aahpc.org/about2.htm).
The 2011 installment of the parade paid homage to the numerous men and women, who were at the forefront of many of the struggles and achievements of African Americans over the centuries of their presence in North America. Organizers and participants in the parade honored famed individuals, such as: Booker T. Washington, Fredrick Douglas, Martin Luther King, Malcolm X, Betty Shabazz, W. E. B. Du Bois, and many others.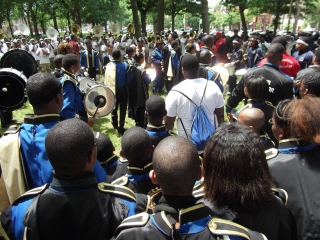 Among the participants in the parade were numerous high school marching bands, which came from many areas of New Jersey. The Medgar Evers College Preparatory Marching Band of Brooklyn New York came across the river and enthusiastically made their contribution to the events. Together with the East Orange Unified Marching Band and the Plainfield High School Marching Band, they engaged in an impromptu and competitive Battle of the Bands in Lincoln Park, the starting point of the parade (see http://vimeo.com/26734014 and http://vimeo.com/26733360). These ensembles then joined the other bands, like Central High School Marching Band, to provide creative and energetic musical and marching performances, that were warmly received by the hundreds of spectators along the Broad St. parade route.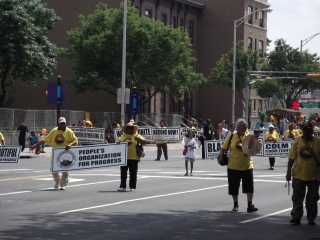 Prominently featured in the parade were the banners and placards of the People's Organization for Progress (POP), which recalled and celebrated the civil rights and black power struggles of the 1960s. Large placards "shouted": "Say Loud, I'm black and I'm Proud", "Power to the People", "Black is Beautiful", and many others. With these slogans boldly displayed, the members and supporters of the POP undoubtedly triggered the memory of the those in the audience, old enough to remember that turbulent era of the black populace struggles for equal rights against the discrimination of the segregation laws. The banners also served to register those historical events into the consciousness of the young, and engender continued pride in the achievements of African Americans.