In the following article, published by World Music Central.org on Oct. 27th 2011, Tony Hiller pays tribute to the West African band, Osibisa, that burst on to the world music scene in the 1970s.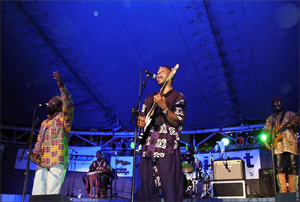 Osibisa – Photo by Mick Tresman
They weren't aware of it at the time of course, but when Osibisa burst onto the British rock scene in the early '70s brandishing their "crisscross rhythms that explode with happiness", they were a veritable harbinger. Not only were they the first act to show that African music was truly exportable, but in many ways they, along with San Francisco-based Latin rockers Santana, who broke simultaneously, presaged the emergence of a nascent global fusion scene.
The term 'world music' was nary a twinkle in a marketeer's eye when Ghanaian expat saxophonist/flautist Teddy Osei, his trumpet playing brother Mac Tontoh and their drummer compatriot Sol Armafio enlisted the services of Nigerians Loughty Amao and Remi Kabaka, then West Indians Spartacus R., Robert Bailey and Wendell Richardson and created a synthesis of West African highlife melodies and Caribbean rhythms. Their exotic and prescient amalgam took London by storm and the band's popularity quickly spread to the rest of the country and offshore.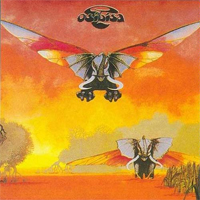 Osibisa's debut album
 Osibisa's eponymous 1970 debut LP sold more than a million copies. Their second album, Woyaya, released a year later, enjoyed even more success. They scored hit singles with songs like 'Music For Gong Gong', 'Happy Children' and 'Sunshine Day'. The band kept the highest company, jamming with the likes of the Stones, Stevie Wonder and Traffic. They played at Zimbabwe's celebrated independence party in 1980 and became one of the first bands based in the West to tour India.
If Osibisa has fallen under the radar in recent years it is probably because they've focused on Africa and other parts of the Third World. From Accra, the band's leader Teddy Osei, who divides his time between Ghana and the UK, commented: "There are lots of opportunities to play in Africa". Apart from his homeland, Osibisa has performed in Nigeria, Kenya, Zambia, Zimbabwe, Tanzania, Gabon, South Africa, Senegal and Liberia. "We still do very well at festivals all over the world," Osei adds.
The death last year of Mac Tontoh has not severed Osibisa's continuum, although Osei concedes that losing his brother, who was arguably the most influential and colorful member of the band, was a major blow. "No one could replace his energy and love or what he put into his music, but we've got Colin Graham who's been with us on trumpet for a while now, and he's quite brilliant." Before he passed away, Tontoh contributed to Osibisa's most recent release Osee Yee, an album that proved the band had lost none of its allure. The new material showed a stronger jazz leaning and a move to more modern drumming styles, even Brazilian samba rhythms. An album collating some of their classic tracks, The Very Best of Osibisa, which was released concurrently, confirmed that their sound had not dated. Osibisa's current playlist spans the spectrum of their 40-year career, from early songs to their newer material stuff.
With the brilliant drummer Sol Armafio having opted out several years ago to become head of his family clan in Accra — "It's a position he couldn't refuse," Osei observes — lead guitarist/vocalist Wendell Richardson is the only other survivor of the original line-up. Several members, keyboardist/vocalist Emmanuel Rentzos and rhythm guitarist/vocalist Gregg Kofi Brown, have been with Osibisa since the early '80s. Trumpeter Colin Graham, percussionist Emmanuel Nii Tagoe, drummer Alex K Boateng and bass guitarist Emmanuel Afram all joined the band in the last decade.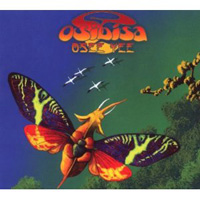 Osibisa – Osee Yee
Osei's own career stretches way back to 1959 when, as a teenager in Ghana, he joined the Comets Dance Band, so Osibisa's roots stem from the early days of highlife music in West Africa. "I chose the name because of the rhythm and the fusion of world music we were working on when we arrived in London," he says. "It derives from Osibisaba, an Akan tribe in Ghana and also a popular dance music." Osibisa's famous catchcry 'crisscross rhythms that explode with happiness' came from one of the saxophonist's English girlfriends, who used that expression to describe the band's sound to a friend on the phone. "She was right on!" Osei declares. 'Afro Rock' is how the British Press first classified their music and promoters and music retailers picked up on that term. "We were especially helped by one article headed 'Music That Could Break The Sound Barrier', published in 1970," Osei recalls. "We built up a cult following in clubs, colleges and universities. I think we were in the right place at the right time with the right music. British youth was experiencing flower power and free love and were looking for the right sound to excite them!"
Teddy Osei concludes: "I'm very proud that we worked so hard on our recordings and that we toured the world to popularize African music. Osibisa paved the way for the boom in African music and also brought some excitement and happiness to Western music."
• The above interview first appeared in Rhythms, Australia's only dedicated roots music magazine, for which the author is World/Folk correspondent.
For original report: The Original Afro Rockers | World Music Central.org.