The following article appeared in Dominica News Online, in it homage is passed to musical icon Jeff Joseph who passed away on Wed. Oct. 24, 2011.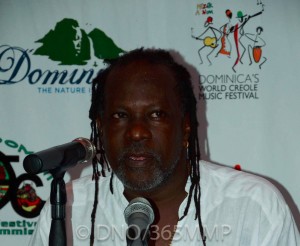 Culture Minister Justina Charles said Dominica's Goodwill Ambassador and cultural icon Jeff Joseph should be remembered as a National Hero.
Jeff Jo died at a Martinique hospital on Wednesday following two major surgeries.
"It has been a shock and it's a sad occasion for the people of Dominica. As a musician and cultural icon he has inspired many people in Dominica and even Martinique and Guadeloupe. His contribution to the development of Creole music and Cadance-lypso is particularly most phenomenal. His talents his dedication and perseverance have yielded legendary hit songs over a period of three decades. We know that he dedicated his whole life to music. Through his music he promoted love, togetherness, Caribbean unity while remaining true to his Dominican culture," she said.
According to Charles, when he performed at the last WCMF, no one knew that would have been his last performance.
"We know we have lost a patriotic son, a cultural icon and a hero," she said.
Meantime Dublin Prince has added her voice to the number of Dominicans expressing sympathy to the family.
"When he was in Dominica for the WCMF, I never thought that this would be the last hug I was getting from Jeff. We have lost an icon. We will miss him because the country has lost an icon. He has taken Dominica to the highest level in terms of Cadance music," she explained.
She said the Dominican people should never forget a man like Jeff Jo.
"The people of the west coast should always remember him too. The young artist should take a leaf from his music because he was a true ambassador," she said.
Yvette Galot President of the Commission  for Culture and Patrimony of the Regional Council of Martinique described Jeff Jo as "an illustrious son" and an artiste "who linked us together."
"A singer of cadence-lypso, Jeff Joseph has re-established our links and connections to the Caribbean," she said.
"For all off us who are attached to his music and to his immense stage presence, say on tracas,an deba!" she noted. "An artiste who linked us together we say thank you to him and pay homage for his inestimable contribution. May his memory remain with us so that our knowledge and understanding of our Caribbean identity be preserved and developed."
Condolences had been pouring in after reports of the passing of the musical icon yesterday.
Events Director of the Dominica Festivals Committee Nathalie Clarke-Meade said she will remember Joseph, popularly known as Jeff Jo, for expanding her knowledge of Creole.
"He was such an energy. He taught me all I know about the history of Creole," she said emotionally.
Jeff Jo, of St. Joseph, has been known for marketing the World Creole Music Festival in Martinique and Guadeloupe. His colleague Leroy Wadix Charles said Jo's death will signify a tough time for those who have worked to preserve the Creole language.
"There was a time when people didn't want Creole spoken on the radio. Many cadence-lypso songs came out in the Creole language and many different messages were in those songs," he said.
Jeff Jo was on life support at the intensive care unit of a Martinique hospital. His family confirmed he had been unconscious since Tuesday and was taken off life support about 2 p.m. on Wednesday. He died around 2:30 pm.
Prime Minister Roosevelt Skerrit has described Jeff Jo as a true ambassador to Dominica, and said his death has left Dominica in shock.
Parliamentary representative for St. Joseph Kelvar Darroux has also expressed sympathies.
Fans of Jeff Jo here and overseas have been sharing their thoughts of the artist on radio.
The Grammacks New Generation artist performed at the 15th World Creole Music Festival this year.
Jeff Joseph was born in the village of St. Joseph and his musical career began around 1972 in Guadeloupe. From that base he has toured the world with a focus on the Antilles.
Many of his classic recordings were done in the legendary Debs Studio in Martinique and he had added various Caribbean styles to his musical identity. Not only was Jeff a lead member of the original Gramacks, the follow up Gramacks International, but he was also a founding member of the Antillean group Volt Face along with Georges Decimus.
For the original posting: UPDATE: Jeff Joseph should be remembered as a National Hero – Culture Minister | Dominica News Online.