David Lewis reviews the release of Ifetayo album of the 1970s Trinidadian musical aggregation, Black Truth Rhythm Band, for Black Grooves.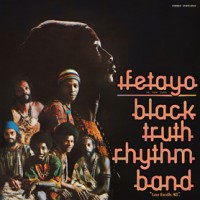 Title:  Ifetayo
Artist:  Black Truth Rhythm Band
Label:  Soundway Records
Formats:  CD, LP, MP3
Release date:  December 6, 2011
Soundway Records, a label that is invested in re-releasing vintage music from the Global South, has found a gem in this 1976 album that, at the time, made very little impact.  The Black Truth Rhythm Band, an Afro-centric Trinidadian group, was formed in 1971 but made only one recording before disbanding, though Oluko Imo?the band leader who plays multiple instruments here?went on to record with Fela Kuti.  The band formed and released Ifetayo in the midst of the Black Power Movement in Trinidad and, along with performers like Lancelot Layne and Cheryl Byron, responded to the African-centered vibe of the movement in their music, making liberal use of African-style drumming and instruments like the mbira.  The album is not simply an African fusion album, though; the band skillfully weaves music from many traditions through a soul and funk-tinged set of tracks.  The title track, "Ifetayo," is deliciously funky and falls into a drum and flute break that sounds decidedly West African.  "Kilimanjaro" ends with an up-tempo Latin American guitar break.  The band also incorporates steelpan, the national instrument of Trinidad, as an integral part of the group (not simply a flourish to pander to tourists) in "Save D Musician" and "Umbala."  Further emphasizing their Trinidadian roots, "Aspire" is a decidedly funked-up calypso beat, and "Save D Musician" has a calypso-like shuffle and lyrics that address social issues, like any good calypso song.
Following is the official promo video featuring the track "Save D Musician":

Since this album is a re-issue, listeners have to be invested in the early 1970s sound, but if you are, it's a strong album that deserved much more attention than it received initially.  The album also pre-figured a number of developments in Trinidadian music, including the African-influenced music of rapso artists like Brother Resistance and 3canal, and the current Trinidad-based world fusion band Terrenaisance.   Ifetayo is currently available from Soundway in three formats: an MP3 download and CD,  both of which contain a bonus track, or, for purists, an LP with a 7" disc containing the bonus track.
For the original post: Ifetayo | blackgrooves.org.