Pat Bishop Dies: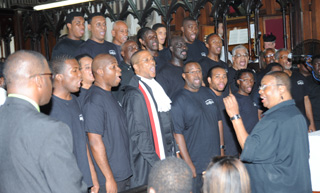 Chief Justice Ivor Archie, centre, performs with the Lydian Singers under the leadership of Pat Bishop, during the opening of the law term on September 16, 2009 at the Trinity Cathedral in Port of Spain. —Photo: JERMAINE CRUICKSHANK
Chief Justice Ivor Archie last night hailed the "outstanding and unparalleled contribution" of renowned composer, arranger, artist and cultural icon the late Pat Bishop, to the world of culture and the arts.
Manager of the Information and Protocol Division of the Judiciary, Jones P Madeira said Archie, a member of the Lydian Singers of which Bishop was the musical director, expressed shock and was "quite distraught" on hearing of Bishop's death.
Archie was overseas and returned late last night, but spoke with Madeira just before boarding the return flight.
Madeira said the Chief Justice said the best way to honour Bishop's "tremendous legacy" was to continue to advocate for the things she stood for and expressed so well in her various fields of work.
"The Chief Justice looked back on Bishop's achievement in art, music, the development of steelband (through her affiliation firstly with Birdsong, Pandemonium, Phase II Pan Groove and most notably Desperadoes), her work with the Lydian Singers and other fields of culture," Madeira said.
"And the Chief Justice said it was difficult to pay tribute in just a few words to Bishop. He extended condolences to all those who knew her and benefitted from her contribution."
Bishop, who underwent triple bypass surgery in 1994 and suffered a mild heart attack in 2007, took ill yesterday while attending a meeting at the Ministry of Planning.
Well-known for her accomplishments as a pan arranger and musical director, she received an honorary doctorate from the University of the West Indies in 1994 and the nation's highest honour, the Trinity Cross in 1995.
For original article: Archie: An outstanding, unparalled contribution | Trinidad Express Newspaper | News.