In the following article Trinidad Express columnist Wayne Bowman reports of the recently concluded 2012 Jazz Artists on the Greens.
The sight of patrons wining, jumping and waving bandanas gave the impression they were at a Carnival fete when they were, in fact, enjoying the music of Clifford Charles and Friends at the 2012 Jazz Artists on the Greens (JAOTG).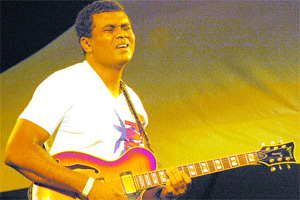 The tenth edition of the concert took place on March 24 at the WASA Grounds, St Joseph, and featured several local jazz acts alongside artistes from abroad. The event was introduced in 2003 by Production One Ltd, which comprises several jazz enthusiasts who believed there was the need for a platform for homegrown jazz musicians.
Back to the rag-waving patrons and Charles, who is an accomplished guitarist, known for interpreting soca hits in the language of jazz in a most unique manner. Charles took "Bacchanalist" by Kerwin Dubios and gave it an alternative identity that was much appreciated by the patrons. Some abandoned their seats and came nearer the stage to dance as Charles and his fellow musicians jammed.
Charles and company opened their set with "Strolling", an original song from Charles' debut CD collection from a few years back. The first people to leave their seats and approach the stage did so as the band began to play "That Girl" by Stevie Wonder.
The patrons danced happily as Charles and the other musicians, David Richards (drums), Sean Friday (bass), Rodney Harris (keyboards) and Deryck Cadogan (keyboards), played around with the song's melodic and rhythmic structure, improvising and delivering exciting solos.
We should note here that JAOTG is a laid-back event that affords patrons the opportunity to either sit in the chairs provided or spread blankets on the ground. There is always a variety of food available, but some people walk with small coolers with wine and other drinks, along with light snacks such as cheeses and other finger foods to nibble as they take in the show. Another element of JAOTG is the socialising among patrons and the musicians being featured, as well as those who come out to support their peers.
So as Charles continued his impressive performance, the band then did a few songs from his new CD collection, Songs From Deep Within. They performed the title track, followed by "Bounce", punctuating that with the jazz classic "Take Five". Near the end of the set, they played a jazz interpretation of "Dance With You" by Machel Montano, which is the song that initiated the abandoning of seats, and "Bacchanalist" kept them coming.
The act that really had the audience mesmerised was Michele Henderson, the songbird from Dominica, who has been a Goodwill Ambassador for her island since 2004. Accompanied by Michael "Ming" Low Chew Tung, along with Dean Williams (guitar), Kevon La Fleur (bass), Modupe Onilu (percussion) and Richard Joseph (drums), Henderson had the audience cheering at intervals throughout her performance.
She opened with "Agua De Beber", in which Onilu and Williams traded solos that impressed even Henderson, who grooved to the music just as much as the audience. Actually, throughout her set, Henderson's passion for music was clearly evident as she imbibed everything around her on the stage. This, of course, made for a fantastic performance that we are sure the patrons will speak of for some time to come.
In the song "Misty", Henderson played a captivating flute solo as the intro, with Low Chew Tung adding in a smooth solo on keyboard. Williams delivered a lively guitar solo when Henderson sang "My Favourite Things", popularised in the classic movie Sound Of Music. Henderson had people dancing when she opened "Waiting In Vain" with another intoxicating flute solo, then giving way for Williams to again work his magic on the guitar.
As Henderson exited the stage, the audience demanded more, and they were treated to a few additional minutes as she brought the house down with "Do I Do". Her session also included "Fow Daw Leve", "Pani Pawol", "500 Miles High", "I Am Changing", "Spain" and "Armando's Rhumba".
JAOTG 10 also featured performances by pannist Annise Hadeed, who was supported by Theron Shaw (guitar), Douglas Reddon (bass) and Richard Bailey (drums). Opening was Carlton "Zanda" Alexander and the Coalpot Band and multi-faceted vocalist Llettesha Sylvester.
For the original post: Joyful Jazz | Trinidad Express Newspaper | Sunday Mix.