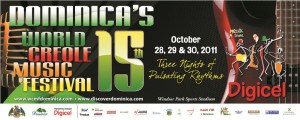 WELCOME… to fifteen years of pulsating rhythms! DOMINICA'S WORLD CREOLE MUSIC FESTIVAL sets the stage for you to make a memory and come dancing with us on the Nature Island of the Caribbean THANKS to our headline sponsor DIGICEL…the Bigger, Better Network
DOMINICA'S WORLD CREOLE MUSIC FESTIVAL created in 1997 has brought to you Creole music for fifteen years. The festival has grown to be the Caribbean region's main avenue for exposing the various genres of popular music forms in the Creole speaking world. This mix of fusion composition laced with generous samplings of Dominica's folk traditions, Creole cuisine, a great festival atmosphere, and the hospitality of Dominican people make it a unique celebration check out the Discover Dominica Authority's (www.discoverdominica.com) for things to do while on island.
DOMINICA'S WORLD CREOLE MUSIC FESTIVAL brings you melodic genres rooted in harmonious fusion from the countries of the Creole-speaking world. Musical forms that have gained exposure and dominance at the festival include Cadence-lypso, Kompas, Zouk, Soukous, Bouyon, even Zydeco (from the US state of Louisiana). Here's your chance to come on down and join us.
Musical line up this year Friday 28 – 8:30pm to 4am… Kolo Barst, Harmonik, Ali Campbell –the legendary voice of UB40, Dominica's finest Creole artiste and band Jeff Joseph –Grammacks New Generation and Dominica's creators of bouyon WCK!
Saturday 29 – 8:30pm to 4am … Dobet Gnahoré West Africa visits Dominica, Jean-Philippe Marthély & Jocelyne Béroard bringing a taste of Zouk…a musical genre created by the famous band Kassav. THIRD WORLD…reggae ambassadors! CARIMI bringing a fresh hip cool Compas to the Windsor park Sports Stadium and the oldest Cadence kings weaving their memory spell over us…Dominica's Midnight Groovers.
Sunday Night 30 – 4:30pm to 1am…Dominica's Swingin' Starz and the Calypso / Soca Monarch winners circle, Gyptian…the reggae lovers rock King of romance, Zouk Allstar Band featuring the currently hot Fanny, Jocelyne Labylle and Alex Catrin from the French islands of Martinique and Guadeloupe. Bunji Garlin and Fay-Ann Lyons bringing us party soca Trini style so make sure your shoes have plenty wear because you are going to jump right through to Dominica's TRIPLE Kay buoyon's young masters!
DOMINICA'S WORLD CREOLE MUSIC FESTIVAL is traditionally held on the last weekend of October and it is strongly rooted in Dominica's Independence celebrations. Our regulars and visitors to the island have many opportunities to get an appreciation of the rich cultural attributes of 'DOMINICA…The Nature Island'. Come for Creole in the park…stay for WCMF!
For original articles: – Da Vibes.