Virtuoso pannist and arranger Ray Holman showcased his well-honed skills in his recent concert series. The following report on the event was written by Gillian Moore and published in the Trinidad Guardian.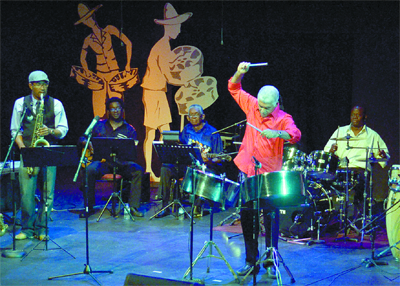 Ray Holman's recent concert series—Mama Dis Is Pan—staged at the Little Carib Theatre in Woodbrook February 23-25, was more than a presentation of the sweetness of the instrument; it was a showcase of a formidable body of work by the pan master, a nostalgic journey through his life in the steelband, and a celebration of pan hits through the years —all rendered in a style all his own. In his unassuming manner, the white-haired veteran took the stage before his band of musicians on opening night, to lead them on pan through two laid-back yet vibesy sets. Unlike many steelband virtuosos, his playing was fully integrated with the band. Although he took several lovely solos, he never dominated the sound. The musicians— including Anthony Woodroffe sax; Dean Williams guitar; Brian Perkins percussion; Kenneth Clarke congas Joey Samuels drums; Mike Germaine bass; and, Dereck Cadogan keyboards—did well, keeping the sound smooth, without letting it get boring. Also on the cast were several vocalists, including De Alberto, in his first local performance in 20 years, Kenny J and Jerelle Forde. Holman got things going with his Pan On the Move, the first "pan tune" ever written.
London-based De Alberto joined in for pleasing renditions of Pan Woman and Scrunter's Woman on the Bass. His performance was well appreciated by the audience. Holman changed the pace with I'll Always Love You (Taylor Dane), which he said was one of his favourite songs, before introducing young vocalist Jerelle Forde, whom he called "the best-kept secret in Trinidad." She sang Oh Trinidad, the last of many songs on which Holman collaborated with the late Merchant. The band then did a Merchant medley, including Barataria Sweet (but Morne Diablo sweeter) and Taxi Driver. The opening bars of Steel Band Clash were enough for the audience to chime in with "A-ha!" Alternating between the mic and his spot behind his double drums, Holman sang the lyrics with the crowd joining him for the refrain: "Never me again to jump in a steelband in Port-of-Spain." The pan ace recounted how as a youth in Woodbrook, he was mentored by pan pioneer Ellie Mannette at Invaders panyard. He said he recalled, in 1955, first hearing Manette play double seconds on the radio. He said it was "like something out of this world". Sweetly, he played Melody's Michael, a simple song harking back to those early days.
A Sparrow medley was next, Holman hailing the Birdie, along with Kithchener as one of his great musical influences. The band did Rose, Memories, Congo Man, Jane and Melda. The second half offered more memorable gems, including a delightful arrangement of Pan in Harmony; Jerelle Forde with Carnival is For the Woman and a lively performance of Shadow's I Come Out to Play; De Alberto doing My Band; Kitchener's Margie and Iron Man; and Kenny J doing Plenty Loving and Baron's Somebody, which was a big hit with the crowd. The band got whimsical with I Feel Pretty, giving it a nice calypso swing. They segued into Penny Lane to close the show. The audience rose to their feet to give Holman a rousing ovation, and the emotion in the room was palpable. He had delivered a show that was nostalgic and sweet, romantic and musical. The band performed a short classical piece as an encore, topping off a beautiful show.
For the original report:  Mama Dis is Pan: 'Mr Ray' delights with musical nostalgia | The Trinidad Guardian Newspaper.