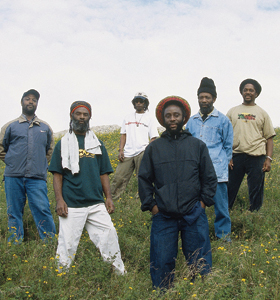 The legendary reggae band Misty in Roots has announced a 10 date UK tour featuring the pioneers of UK Reggae Music.
With a career spanning four decades, Misty in Roots are one of England's finest Roots Reggae groups. Along with Steel Pulse and Aswad, the band were one of the most powerful live Reggae acts to emerge from 1970s London; noted for their powerful roots reggae sound and uncompromising lyrical vibrations.
They became the major force in Rock Against Racism, pioneering the Reggae / Punk / New Wave crossover and playing more concerts than any other band in the movement. This opened up a whole new audience for the band who quickly developed a very strong cross over following, playing with acts such as Tom Robinson and Elvis Costello amongst others.
Recently overlooked by the BBC in their 'Reggae Britannia' documentary, Misty In Roots's contribution to the British Reggae legacy is indisputable, through their reaching out to new audiences in the 1970s with their unique PA and Sound System, they took Reggae to a whole new audience, defining the very sound that we associate with Reggae music today along the way.
The tour kicks off on 30th September at The Picket in Liverpool.
For original report: British Reggae Pioneers Misty In Roots to Launch 2011 UK Tour | World Music Central.org.