This week World Music Central features Fatoumata Diawara in its video of the week.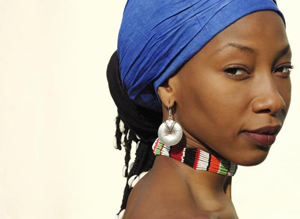 Malian singer-songwriter Fatoumata Diawara gets her inspiration from Wassulu traditional music, jazz, and blues. She was born of Malian parents and achieved local celebrity in Abidjan (Ivory Coast) as a dancer. She moved to Bamako (Mali) in her early teens and became an actress.
Diawara starred in Cheikh Oumar Sissoko's movie La Genese. In her early twenties she moved to Paris (France) where she spent six years touring internationally with the theatre troupe Royal de Luxe. She was one of the leading actresses in the musical Kirikou et Karaba.
Fatoumata Diawara recorded and toured with Malian star Oumou Sangare until she decided to develop her own music, composing, arranging and playing her own material, blending Wassulu traditions and contemporary music influences.
Wassulu is an historic region in southwest Mali, northeast Guinea and northwestern Ivory Coast. Wassulu music is one of the forms of West African music that some ethnomusicologists believe to be the origin of the American blues.

For original post: Video of the Week: Bissa by Fatoumata Diawara | World Music Central.org.