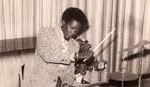 Clarence Curvan on drums
His love for dance led Clarence Curvan from dancer to dance band leader. His entry into the world of music performance was unplanned, and may be described as accidental, but it opened the doors to an illustrious career. Following his passion for dancing, a teenage Curvan accompanied his mother and her friends to a party, which featured the Sonny Lewis Orchestra. Feeling out of place among the older crowd, he entertained himself by playing the cowbell along with the band. When he received the princely sum of $1 for his unsolicited night's effort, he was encouraged to participate in subsequent engagements of the band on the invitation of Lewis, eventually becoming exceedingly proficient on the bongos.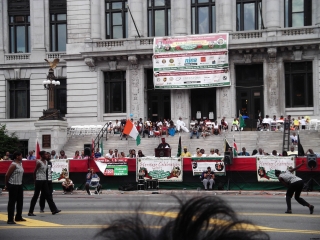 On Sunday May 29th 2011, the Annual African-American Heritage Statewide Parade, celebrating its 45th anniversary, was hosted in Newark, New Jersey. The 2011 installment of the parade paid homage to the numerous men and women, who were at the forefront of many of the struggles and achievements of African Americans over the centuries of their presence in North America. Organizers and participants in the parade honored famed individuals, such as: Booker T. Washington, Fredrick Douglas, Martin Luther King, Malcolm X, Betty Shabazz, W. E. B. Du Bois, and many others.
Trinidadian dancer and choreographer, Gene Toney, demonstrates short examples of various Caribbean dance rhythms and songs.
Through this activity he was acquainted with some of Trinidad's leading dancers such as: Jean Coggins, Julia Edwards, and Neville Shepherd with whom Gene performed and toured before forming his own troupe, the Ujaama Folk Performers in 1972.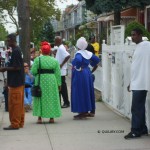 Having arrived on site prior to the 10:00 am kick-off of the Parade of Bands, it is likely that enthusiastic spectators would be swamped, for the next 3 hours, with the parade of an array of associations, politicians, and other sundry groupings, such as colleges, churches, and businesses that move along accompanied by carnival music.
May 17th 2011 marked the 6th anniversary of the death of Brian Honore, who was known in the calypso world as Commentor and in traditional mas' circles as the Reincarnation of the O'Cangaciero, Midnight Robber.